Quick & Thorough Concrete and Driveway Cleaning for Peoria IL & Bloomington IL
Are you tired of staring at an unsightly stain on your driveway, patio or garage? Perhaps you've tried to scrub it, but the surface won't come clean. Or maybe it's just been a while since you've sought professional services, and your pavement's due for a deep clean. In either instance, the T Jacks team can help. We offer comprehensive concrete cleaning services for Peoria IL business and homeowners. We also serve the Bloomington IL area. No matter the size, shape or appearance of the area in question, we can remove all impurities, leaving you with a surface that shines like new.
Why Dirty Driveways Are Bad News
Whether your driveway serves as a path to your home or a space to park your car, it's something you come in contact with nearly every day. Thus, it's extremely easy for dirt, dust, grease and grime to accumulate over time, and when it does, you need to act fast or be prepared to deal with the consequences.
One of the biggest potential dangers of a dirty driveway is deterioration. Oil, rock salt and other abrasive substances have been known to weaken many of the materials driveways are made out of. If left untreated, such substances will only worsen the state of your pavement. And, as a result, you will end up having to pay more out of pocket for additional repairs.
How Professional Cleaning Helps
Concrete is a porous material, making it easy for dirt, grease and grime to find its way in. Unfortunately, this also makes the surface more difficult to clean, and sometimes no amount of sweeping, mopping or scrubbing seems to do the trick. Pressure washing, on the other hand, frees the particles trapped deep within the pavement, flushing out crevices that can't be reached using regular equipment. Not only is this cleaning method more effective, but it is also faster than other solutions out there. Instead of laboring over an area for hours on end, hire us! Our concrete and driveway cleaning will save you a lot of time, energy and trouble, and in the end, you'll still get the same great results.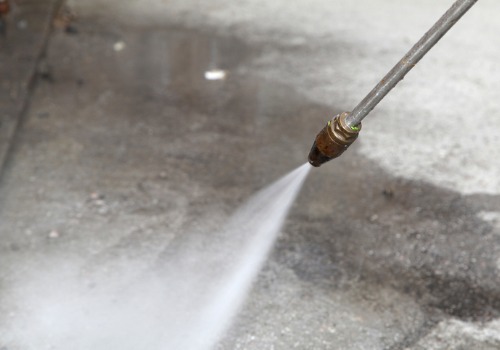 Quality You Can Count On
We are obsessed with getting great results. In fact, nothing makes us happier than standing back and seeing the difference our services have made on your concrete, pavement and other surfaces. For that reason, you can count on us to deliver quality results 100% of the time. Beyond this commitment to excellence, we are also extremely devoted to preserving your property, using only the best and most eco-friendly products during our cleaning process.
Types of Surfaces We Treat
T Jacks Roof and Exterior Cleaning uses soft and power washing equipment to clean concrete surfaces both, big and small. Some of the areas we frequently service are:
Curbs
Patios
Porches
Garages
Walkways
Driveways
Pool Decks
And Basement Floors
Request a Quote
If you have a surface you are struggling to clean, call us at 309-397-1103. We can provide you with a free quote and then set up an appointment at a time that works best for you. Beyond concrete and driveway cleaning, we also offer washing services for roofs, siding, windows, fences, decks and graffiti. For additional information on any of these offerings, email us at tony@tjacksroofcleaning.com.