Gentle Roof Cleaning Peoria IL & Bloomington IL Residents Trust
Roofs are just like any other part of your property; they require routine maintenance to continue looking great and doing what they do best. Cleaning is just a small part of this process. Especially when your roof starts looking grimy and gross, it's wise to hire a professional who can wash it for you. At T Jacks Roof & Exterior Cleaning, we provide professional soft wash roof cleaning services for home and business owners across Peoria IL. We will also server the Bloomington IL area. Our Soft Wash process is detergent based. Whether your roof is overgrown with green moss or stained by black streaks, we are the company to call! Set up an appointment with us today, and we will gently wash the area using our damage-free soft wash equipment and cleaning products.
Why is a Dirty Roof So Dangerous?
Dirty roofs—namely those covered in algae, moss and lichen—affect more than just the appearance of your property. When these substances find their way onto the surface of a roof, they can cause irreparable damage to the shingles and structure. Roof cleaning removes these plants before they can take root or accumulate additional moisture. Furthermore, seeking professional cleaning services increases your roof's longevity, saving you more money in the long run.
What to Expect When You Partner with Us
When you recruit our team to clean the roof of your home or commercial property, you can have complete confidence in the quality of our work. We approach each project with a careful attention to detail, cleaning every nook and cranny until the surface shines like new. We never cut corners or leave any area unfinished. Your satisfaction is our top priority, and as such, we work hard to deliver excellent results. At the end of the day, we want to be able to look back and feel proud of how far we've come. Seeing the difference we've made is our favorite part of the process, and we never tire of watching our customers light up when they see the end result.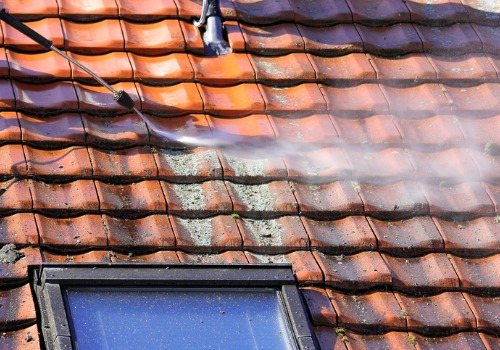 What Else Can We Clean?
As professional pressure and soft washers for the Greater Peoria area and Bloomington, we clean a variety of exterior surfaces besides roofing. For example, our cleaning services include:
Schedule a Service
If you believe you or your company could benefit from our professional roof cleaning services, call us at 309-397-1103 and set up an appointment. For information regarding our other offerings, email us at tony@tjacksroofcleaning.com or submit a request through our online form. We are based out of Peoria IL and proudly serve commercial and residential clients in the surrounding areas, including Bloomington.