Care for Your Yard with Fence Cleaning
From rain and mud to grass stains from mowing, your yard's fence can attract a lot of dirt and grime over time. And if you're not careful, mold and mildew can take hold along the bottom of your fence. Thankfully, such problems are nothing a professional power washer can't resolve. T-Jacks Roof & Exterior Cleaning can clean your vinyl, wood and metal fences with speed and efficiency. So schedule a time for us to come out and restore your fence to like new!
What We Target
We use our pressure washers to target the dirtiest spots with noticeable grime buildup during your fence cleaning. In cleaning your fence, we wash off:
Algae
Moss
Mold
Cobwebs
Pollen
Dirt
Mud
Bird Excrement
How Fence Cleaning Can Help
A thorough fence cleaning not only looks great but contributes to the life span of your fence.
Increase Longevity – Fences don't last forever, but they can certainly last a long time with regular cleaning every season. Unfortunately, the usual dirt and grime can lead to moss and algae growth, potentially damaging your fence. Using a pressure washer to remove these contaminates ensures you won't have to replace your fence any time soon.
Increase Curb Appeal – Nobody enjoys sitting in a dirty room, and the same can be said when attempting to enjoy your yard. Not to mention, people who see your dirty fence will walk away with a negative impression of your property. And the same can be said for fencing around your business. So ensure your property has better curb appeal with a clean fence.
Prep for Staining – For wood fences, staining your fence is a great way to change its look while providing a layer of protection. However, staining is less effective if you don't properly wash your fence ahead of time. For this reason, you need professional pressure washing to ensure your wood fence is free of dirt and debris before staining can commence.
Remove Old Paint – For those who enjoy painting their fence, you might find it difficult to paint over your last coat. To ensure your fence takes to fresh paint, you should have previous paint layers removed via our power washing services.
More Cleaning Services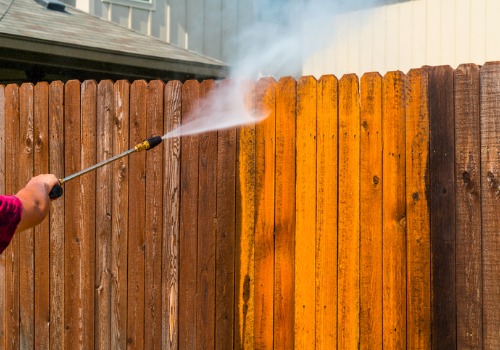 Our professional power washing doesn't end with fence cleaning! Throughout Peoria, IL and the surrounding communities, we provide exterior cleaning services for:
Contact Us
To restore your fence to look as good as new, get in touch with the professional pressure washers at T-Jacks Roof & Exterior Cleaning today. You can contact us at 309-204-9251 or email us at tony@tjacksroofcleaning.com. We are based out of Peoria IL, and proudly serve commercial and residential clients throughout the community.