Comprehensive Deck Cleaning
When you want to enjoy your deck but can't because it is covered in dirt, then it's time to seek help from a certified professional. At T Jacks Roof & Exterior Cleaning, we offer thorough deck cleaning services for Peoria IL area individuals. From vinyl to wood, we service all types of surfaces. Our pressure techniques and cleaning methods vary for each. But the results are always the same: a stunning space for you to cook, sit, eat at or simply enjoy.
Why Professional Power Washing is the Way to Go
Power washing is an incredibly effective solution because it flushes dirt, dust, grease and grime out at a speed and rate other equipment cannot compete with. However, because this cleaning method is so strong, it also has the potential to cause damage to your deck. And, unless you are extremely familiar with the equipment used in this process, it's best to seek professional help.
At T Jacks Roof & Exterior Cleaning, our experts are certified to serve all soft and power washing needs. We know exactly what attachments and pressure settings work best for each scenario, so you never have to worry about dealing with damages, wear or tear. Moreover, we take extra precautions when dealing with the plants and furniture surrounding your property, spraying away from objects you don't want wet and moving or covering them if necessary.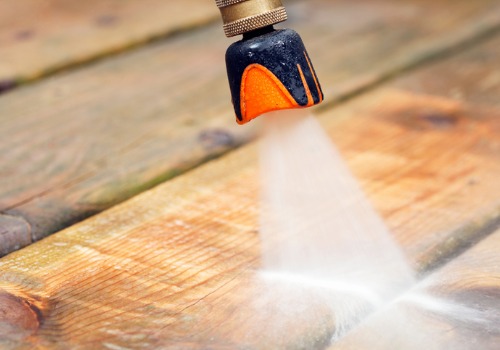 Additional Services
We wouldn't call ourselves T Jacks Roof & Exterior Cleaning if our services didn't extend to other areas around your home or business. Beyond decks, we also provide professional power washing for:
Call Us
To learn more about our comprehensive deck cleaning services or any of the above offerings, call (309) 397-1103 or email us at tony@tjacksroofcleaning.com. We are based out of Peoria IL, and proudly serve commercial and residential clients throughout the community.