Professional Power Washing for Peoria IL Residents
As winter fades and spring begins, there's plenty of cleaning to be done around your home. However, we aren't only talking about dusting and cleaning inside your house; your home's exterior needs some love, too! Thankfully, cleaning the outside of your home can be fast and easy when done by professional exterior cleaners in your area. Give T Jacks Roof & Exterior Cleaning a call, and we can provide you with the power washing Peoria IL households need.
What Can Be Power Washed?
With the right attention to care, just about any exterior surface around your property can benefit from proper pressure washing. Here are a few examples of what T Jacks can do for your home:
Roofs

People don't always consider their roof as something that needs cleaning. However, this thought couldn't be further from the truth. If left unchecked, moss, algae and fungus can begin to take hold of your roof. And such growths can break down your shingles, impact your roof's appearance and severely affect the overall functionality of your roof.

Siding and Windows

To clarify, for windows, we don't power wash your glass. Cleaning the glass requires a more gentle approach. However, the window frame and surrounding siding can benefit from pressure washing. From grass stains from mowing to moss growth, there's plenty that can affect your home's exterior. Thankfully, professional power washing can clean your property right up.

Driveways, Paths and Concrete

Your driveway and walkways get plenty of use. However, said use will become "noticeable" over time. Dirt, grass, mud and more can stain and build up on concrete. Furthermore, weeds and grass can spring from cracks and crevices. Having power washing in Peoria IL done by T Jacks can remove the debris from your concrete, eliminate plant growth and restore surfaces to like new.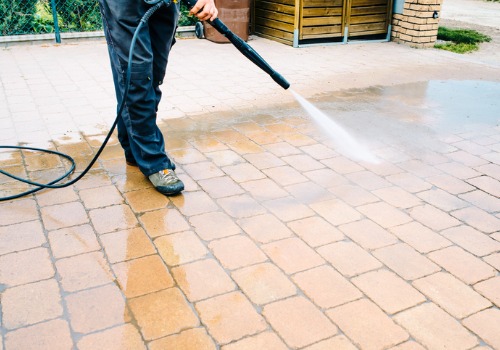 Why We Stand Out
The T Jacks crew looks to provide a superior clean for an affordable price. Beyond our commitment to quality, we also take great care to ensure no harm comes to your property. Without the proper education and certifications, power washing can cause significant damage to your home. However, when in the hands of professionals, we can transform the appearance of your home and restore the health and functionality of your roof, driveway, siding and more. And for those unique cleaning scenarios like graffiti removal, T Jacks can assist with that too!
Give Us a Call
Power washing in Peoria IL is a fantastic method for cleaning up your home or business exterior. To see the results for yourself, give the team at T Jacks Roof & Exterior Cleaning a call today. You can contact us at 309-316-7977 to request a quote. Also, you can get in touch via our email, tony@tjacksroofcleaning.com.