Achieve a Perfectly Clean Home with Pressure Washing in Peoria IL
There are few things more disappointing than coming home to a messy house. And that goes double for a house that's dirty on the outside, too! However, when it comes to cleaning your property's exterior, that's easier said than done. Thankfully, some professionals provide fast and efficient pressure washing for Peoria IL, sure to brighten up your home or business. Allow T Jacks Roof & Exterior Cleaning to give your place the proper cleaning it deserves.
The Best Spots to Clean
There are a few exterior surfaces that T Jacks can't clean. From your driveway to your roof, parts of your property need the most care and attention when it comes to pressure washing. Allow our team to provide you with the best available clean for your home or business's exterior.
Roof Cleaning – A clean roof is vital for its longevity and the overall health of your home. However, if not careful with a power washer, you risk doing more harm than good for your roof. Thankfully, T Jacks understands the best methods for pressure washing roofs. When cleaning your roofs, we eliminate mold spots, improve your roof's efficiency reflecting heat, and restore its overall appearance.
Concrete Cleaning – Porches, patios, driveways, pavement, parking lots and more all see their fair share of use. In fact, between dirt, mud, car exhaust, and leaking fluids, your concrete can quickly become stained and dirty. Thankfully, pressure washing can restore concrete like new. A professional power washing can remove potential hazards, impede weed growth, increase the lifespan and improve the appearance of any concrete surface.
Decks and Fencing – No matter the material of your decking for fences, mold, algae, dirt and other contaminants can take hold. Exposure to the elements can lead to a build-up of grime on any outside surface. And the uncleanliness of your decks and fencing is not addressed, it can lead to their breakdown and deterioration. Conversely, seasonal cleaning can allow the features of your property to look beautiful and last a long time.
Learn More About T Jacks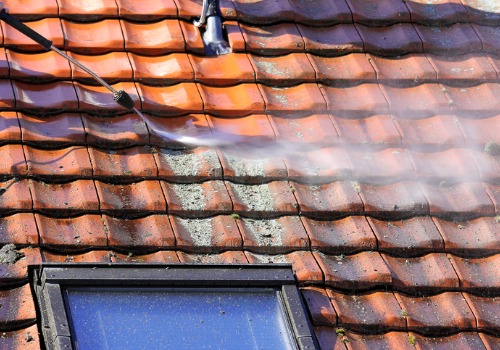 T Jacks Roof & Exterior Cleaning was started by Tony Jackson. After several years working in education, Jackson grew fond of pressure washing and its effect on the surfaces he cleaned. In no time, he made a business of his newfound passion of pressure washing in Peoria IL, and now he's one of the local leading professional power washers. Whether looking to get your roof cleaned, needing graffiti removed, or needing help washing your siding and windows, T Jacks has you covered.
Give Us a Call
Pressure washing in Peoria IL is one of the best ways to restore the health and cleanliness of your home or business's exterior. To learn more about how pressure washing can benefit you, give T Jacks Roof & Exterior Cleaning a call. You can contact us at 309-316-7977 or email tony@tjacksroofcleaning.com.